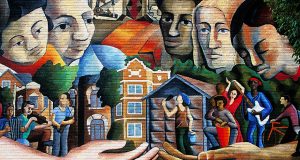 © Photograph by Bernard J. Kleina
Silver State Fair Housing Council believes that equal housing opportunity is a right, not a privilege, and that housing should be available to all members of our community, regardless of race, color, religion, national origin, sex/gender, sexual orientation, gender identity or expression, familial status, and disability. Any individual act of discrimination diminishes the community as a whole; any act of advocacy for housing equality strengthens the very heart of our community…our neighborhoods.
The SSFHC HEART (Housing Equality Advocacy Recognition Tribute) Award is presented by the Board of Trustees to recognize individuals and groups in the community whose activities promote the goals of fair housing.
The common vision shared by our award recipients in a community of neighbors learning to appreciate our similarities and our differences. In recognizing their contributions to furthering fair housing in our community, SSFHC hopes to encourage others to join the fight for equal access to housing. We hope you'll be thinking about who should receive the HEART Awards in the future and about what YOU can do to promote equal housing opportunity in the community during the coming year.
2019 HEART AWARD RECIPIENTS:
Susan Nicolls
Mike Kitson
2018 HEART AWARD RECIPIENT:
Noble Studios
2017 HEART AWARD RECIPIENTS:
Clark County
City of Henderson
City of Las Vegas
Bill Brewer
Patricia Lovato
2015 HEART AWARD RECIPIENT:
Ann Peterson
2014 HEART AWARD RECIPIENT:
Phillip Zook
2013 HEART AWARD RECIPIENT:
Michelle Wallace
2012 HEART AWARD RECIPIENT:
Ahora LATINO JOURNAL
2011 HEART AWARD RECIPIENT:
Judy Cook
2010 HEART AWARD RECIPIENTS:
Carlos Romo, Ph.D.
Community Housing Resource Board of Southern Nevada
2009 HEART AWARD RECIPIENT:
Reverend Onie Cooper
2008 HEART AWARD RECIPIENTS:
Consumer Credit Affiliates
Mary Lou Nelson
2007 HEART AWARD RECIPIENTS:
Alicia Mustard
Ray Valdez
2006 HEART AWARD RECIPIENTS:
Christopher Brancart, Esq
Little Flower School
2005 HEART AWARD RECIPIENTS:
U.S. Department of Housing and Urban Development (HUD)
Washington, DC., San Francisco & Reno offices
2004 HEART AWARD RECIPIENTS:
Tom Vetica
Christina McLeod
2003 HEART AWARD RECIPIENTS:
Laura Vargas
Ian Silverberg
2002 HEART AWARD RECIPIENTS:
Washoe Legal Services
Trina Garcia
Walter Stucka
2001 HEART AWARD RECIPIENTS:
Ernest Neilsen
Doreen Davis
Washoe County Human Services Consortium