Looking for housing?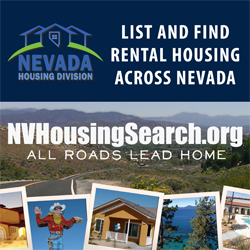 Housing Discrimination Complaints
Silver State Fair Housing Council (SSFHC)
(775) 324-0990 Northern Nevada
(702) 749-3288 Southern Nevada
(888) 585-8634 toll-free
Relay Nevada 711
Website: www.ssfhc.org
Email: fairhousing@ssfhc.org
U.S. Department of Housing and Urban Development (HUD)
(800) 347-3739
(415) 489-6564 TTY
Website: www.portal.hud.gov/hudportal/HUD
Online complaint form
Nevada Equal Rights Commission (NERC)
(775) 823-6690 Northern Nevada
(702) 486-7161 Southern Nevada
(800) 326-6868
NV Relay 711
Website: www.nvdetr.org/nerc.htm
Online complaint form
Online complaint option is available through HUD and NERC. SSFHC is available to assist complainants in drafting complaints and submitting supporting evidence.
Landlord/Tenant Issues/Subsidized Housing
Nevada Legal Services – Reno
204 Marsh Avenue, Suite 101
Reno, NV 89509
775.284.3491
800.323.8666 toll-free
Nevada Legal Services – Las Vegas
530 S. Sixth Street
Las Vegas, NV 89101
702.386.0404
866.432.0404 toll-free
Nevada Legal Services – Statewide Senior Helpline
877.693.2163
Disability-related services
NDALC Southern Nevada Office
2820 West Charleston Blvd #11
Las Vegas, NV 89102
702.257.8150
NDALC Northern Nevada Office
1865 Plumas Street, #1
Reno, NV 89509
775.333.7878
800.992.5715 toll-free
NDALC Elko Office
905 Railroad Street #104B
Elko, NV 89801
775.777.1590
800.992.5715 toll-free
Visit Website
Southern Nevada Center for Independent Living (SNCIL)
6039 Eldora Avenue Suite H-8
Las Vegas, NV 89146
702.889.4216 & 800.870.7003 toll-free
Northern Nevada Center for Independent Living (NNCIL)
999 Pyramid Way
Sparks, NV 89431
775.353.3599
Requesting Reasonable Accommodations/Modifications
Silver State Fair Housing Council (SSFHC)
(775) 324-0990 Northern Nevada
(702) 749-3288 Southern Nevada
(888) 585-8634 toll-free
Relay Nevada 711
Website: www.ssfhc.org
Email: fairhousing@ssfhc.org
Assistance for Minor Home Modifications
Southern Nevada Center for Independent Living (SNCIL)
6039 Eldora Avenue Suite H-8
Las Vegas, NV 89146
702.889.4216 & 800.870.7003 toll-free
Northern Nevada Center for Independent Living (NNCIL)
999 Pyramid Way
Sparks, NV 89431
775.353.3599
Subsidized Housing Programs
Resource Library

Under construction