Fair Housing Act's Accessibility Guidelines Training
Silver State Fair Housing Council is happy to announce that we have scheduled an in-person training on the Fair Housing Act's accessibility requirements for new multifamily housing in Las Vegas, NV! This year, the training will take place on Wednesday, March 16, 2022,  from 8AM to 4PM. The course has been approved by AIA for 6.0 LU/HSW credits, based on the length of the training.  4.0 LU/HSW for the classroom session, and 2.0 LU/HSW for the on-site practical assessment.  SSFHC has been approved for 6.0 hours/General credits of Continuing Legal Education from the State Bar of Nevada.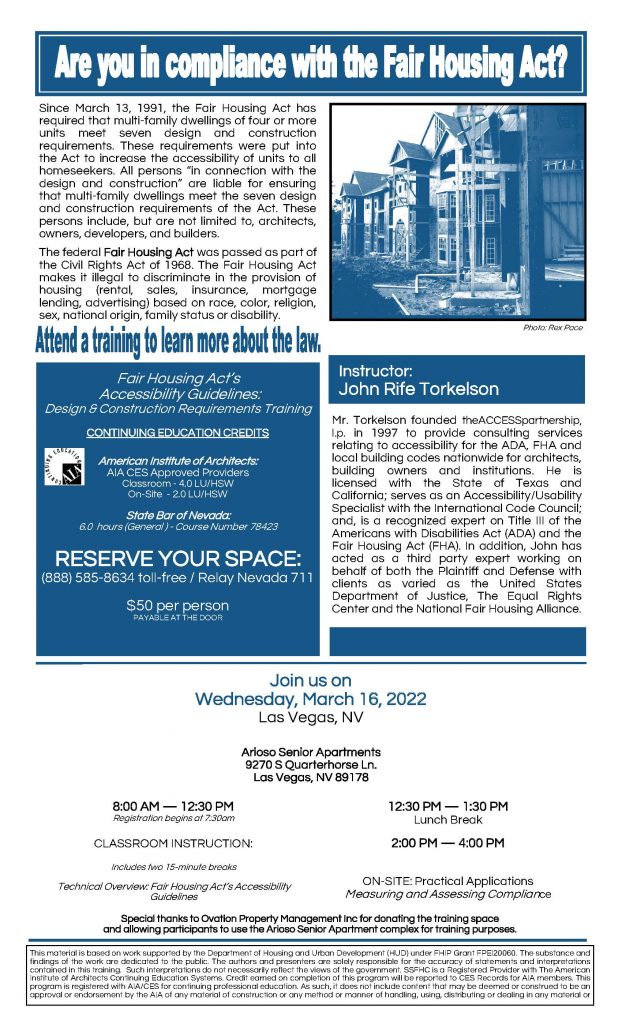 The "Fair Housing Act's Accessibility Guidelines Training" is a comprehensive overview of the seven design requirements of the Fair Housing Act's accessibility guidelines. The course is instructed by a licensed architect and is targeted to architects, developers, real estate professionals, attorneys and advocates.  The on-site practical assessment  will allow training participants to meet on-site at a local apartment complex built for first occupancy after March 13, 1991, a "covered property" under the Fair Housing Act. Participants, led by the trainer, will visit the public and common use areas, walk the property's access routes, and visit at least one ground floor unit. Participants will learn how to measure and assess compliance with the accessibility guidelines. This hands-on experience allows participants to use information received in the classroom and apply it to the built environment.
Please contact SSFHC for additional information.
SSFHC remains committed to ensuring compliance with fair housing design requirements and expanding housing opportunities for people of all abilities!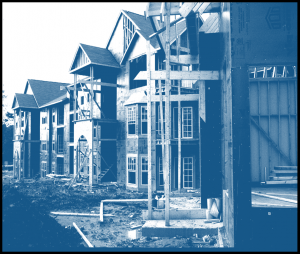 Photo: Rex Pace
This course has the following Continuing Education Credits:
American Institute of Architects:
AIA CES Approved Provider
Registered for 6.0 LU/HSW total
Classroom/Online – 4.0 LU/HSW
On-Site Practical Assessment – 2.0 LU/HSW
Continuing Legal Education:
6.0 hours/General – Course Number 78423
Cost: $50/PERSON 
Wednesday, March 16, 2022
Las Vegas, NV
Training will be conducted in-person
8:00 AM — 4:00PM
Presenter:
John Torkelson
theACCESSpartnership
Register NOW!  Seating is limited.  MUST RSVP by calling 1.888.585.8634 toll-free or Relay Nevada 711
We are pleased to provide reasonable accommodations requested by people with disabilities who wish to attend the training.  Contact us at 888.585.8634 / Relay Nevada 711 by March, 9, 2022 to request reasonable accommodations.