Volunteer Tester Training
Silver State Fair Housing Council is actively recruiting volunteers who reflect the diversity of our community to be part of our housing discrimination tester program.
Housing discrimination testers are anonymous members of our community who are trained to gather information about housing practices by assuming an assigned role of a prospective home seeker, most often in a rental situation. Volunteers must be able to objectively and accurately report their experiences.
The Federal Fair Housing Act makes it illegal to discriminate in the sale, rental, or financing of housing based on race, color, religion, sex (gender), national origin, familial status (having children under 18 years old), or disability. In addition, Nevada State law prohibits discrimination based on ancestry, sexual orientation, and gender identity/expression. The testing process has been consistently supported by federal courts as a legitimate, necessary method to identify practices of unlawful housing discrimination.
You can become a housing discrimination tester with Silver State Fair Housing Council by attending a three-hour training that provides an overview of fair housing law, reviews the nature and structure of housing discrimination tests, and teaches potential testers how to report on their experiences.  HUD guidelines preclude persons convicted of a felony or crimes of fraud or perjury from participating in the volunteer program, and require screening for potential conflict of interest.  Criminal background checks will be performed on all active volunteers.
Attend our next remote training via Zoom!
Registration is required.  Please RSVP at least 24 hours prior to the scheduled training by calling our office:
Northern Nevada office:   775.324.0990 or 775.324.0438
Toll-free:  1.888.585.8634  or Relay Nevada 711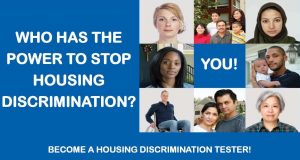 _____
_____
Please note, video attendance is required with the computer's camera/webcam turned on.
Or
If you would like to host a tester training for your organization, please contact SSFHC.